Using the Time Clock and wondering how employees select a PIN, when shift tiles will appear, or how employees use their phones to clock in? Here's the low down.
The Time Clock
The Time Clock page or application will show all shifts rostered for the current day. The rostered employees tile will appear at the top of the page at the start of the day 6 hours before the shift is scheduled to start, and will stay available to be clocked into until 6 hours after the scheduled shift end time.
The tiles to be clocked in are in the top row, and include:
Employee name
Their role
A profile picture (if their employee profile has one)
The rostered start and end time
The green topped tiles show how long until the shift starts, or
The red topped tiles show how long since the scheduled shift start (if not yet clocked in)
To Clock In
To clock in all employees need to do is click on their tile.
Depending on the capture method chosen, the Time Clock will either ask for a PIN, or launch the camera to take a picture.
If using PIN - the employee has not clocked in before, entering any 4 digit PIN will then set that as their PIN to use to clock in and out for all future shifts. PINs can be changed in the Ento Staff area or Employee app if required.
If using facial recognition - clicking a tile will launch the camera to take a picture. Once the employee can see their entire face they click 'capture' to take their picture. They will be clocked into their shift.
Clocked in tiles turn green and move to the centre row, ready to be used later to clock out.
To Clock Out
Employees locate their tile in the middle section of the Time Clock page. Clicking their tile will ask again for their 4 digit pin or load the camera to have their photo taken. Depending on the company settings they may also be prompted:
To confirm the length of their break
To enter a shift note for their manager, which will display in the review timesheet section.
Employees click the clock out button to complete the process.
Ento Employee app
Employees may also be set to use GPS clock in and clock out. Rather than using a static computer or tablet to clock in, all they need do is open the app, and if they have a shift scheduled for that day, they will see the green CLOCK IN button.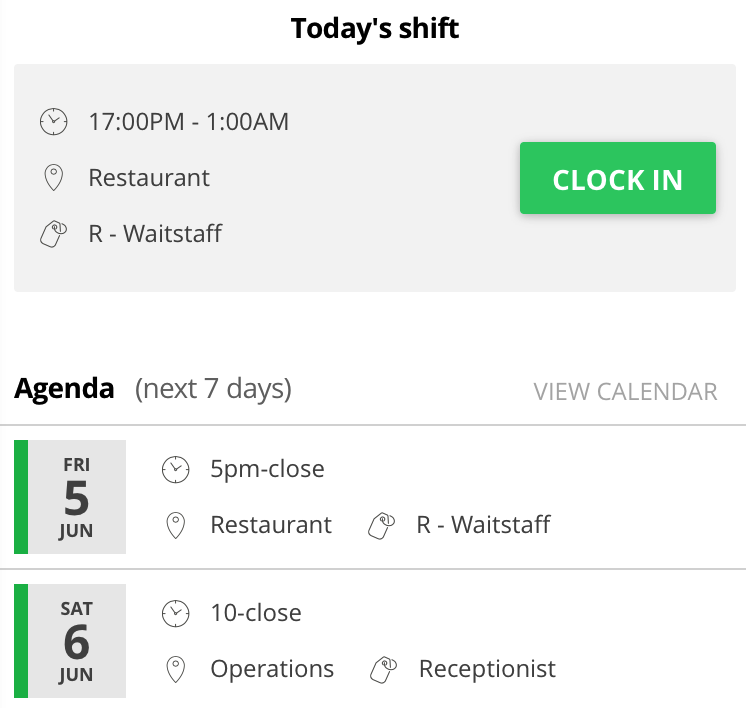 Once they have clocked in the button will change to a red CLOCK OUT button, ready for clocking out at the end of the shift. No PIN is required, they just location services to be enabled on their device to record a GPS location. When reviewing timesheets, if an employees GPS icon is showing red and no location displaying when clicked, have employees follow these steps:
Check Location Services are enabled for their phone (for iPhones this is in Settings > Privacy and Location Services should be On)
Next confirm that Location Services are enabled for the Ento Employee app.
If not, have them reinstall the Ento Employee app, and the next time the employee uses the app to CLOCK IN, make sure employees know they will need to allow Ento to access their location while they are using the app.
If you'd prefer, you can require staff to enable location services to clock in/out via Employee Permissions.
SMS
SMS Clock in and out is most commonly used for Call Outs when you are scheduled to be 'On Call'. You will only be able to clock in and out during the hours you're scheduled. Your manager will provide you with the mobile number to text.
On Call Call Outs
For On Call shifts when you are called out to work, SMS 'Ah in' to clock in, and 'Ah out' to clock out, multiple times if required during scheduled on call shift. Remember you will always need to clock out before trying to clock back in.
Regular shifts
Text 'Clock in' to clock in, and 'Clock out' to clock out.
Self managed timesheets
To confirm the hours you have worked, login to the employee app and click Timesheets. Click on a shift, then click Edit when it appears. A timesheet can be edited up until the shift has been authorised, then the record will be locked.
Want to see how employees will clock in and out using the Time Clock? Take a look at the training video below.
Where to now?
Other related articles
Editing and authorising timesheets
Ending a Time Clock session