Using facial recognition with the Time Clock? Here's how to train the facial recognition engine to recognise your
employees

.

Once your employees start clocking in and out using the Time Clock, you will be collecting images. Until you train the facial recognition engine, all icons will be red. You need to train the facial recognition engine to recognise them, so the camera icon will show as green when they are verified correctly, allowing managers to more quickly approve timesheets.
Reviewing timesheets
To view timesheet data go to Time and Attendance > Review timesheets, or use the Timesheet shortcut on the dashboard

​
Recorded data
In the Recorded section the raw or rounded times (if you are using Shift Rounding) that the employee clocks in and out are displayed.
The icon indicating clock in method also displays, for facial recognition it is a camera icon, which displays green when the staff member is verified, or red indicating verification has not passed.
Training the facial recognition engine
If a camera icon is red, it is indicating either that facial recognition has failed, or that there are not enough images on file for reference.
When you first start using the Ento Time Clock, you begin capturing images. Until you train the facial recognition engine, all icons will be red. Click on the camera icon to see the Facial Recognition Results.
Initially the results will be "Failed with a confidence level of 0 based on 0 training images". If the image is of a quality high enough to use for training, a green bar will display under the image offering to "Train recognition engine with picture"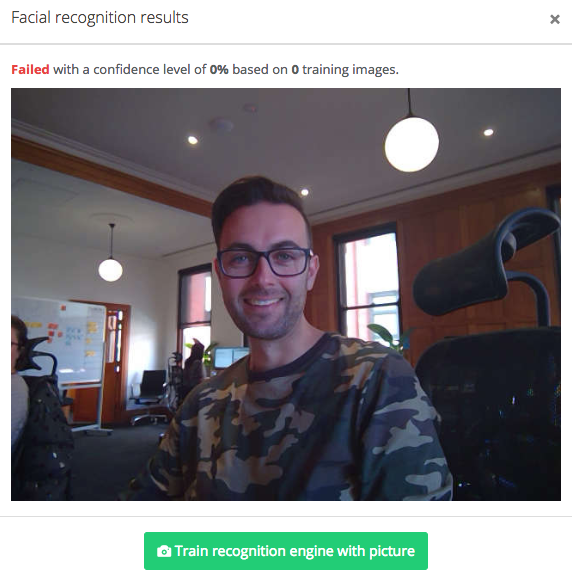 Verified images
When reviewing timesheets it may take a few weeks to build up a bank of images. Keep clicking into the icons for staff for the first few weeks using facial recognition, until the green camera icons display.
When you click on a green camera icon it will display the employees image, and indicate how many images are stored, and give you the option of setting that image as the profile picture for that employee.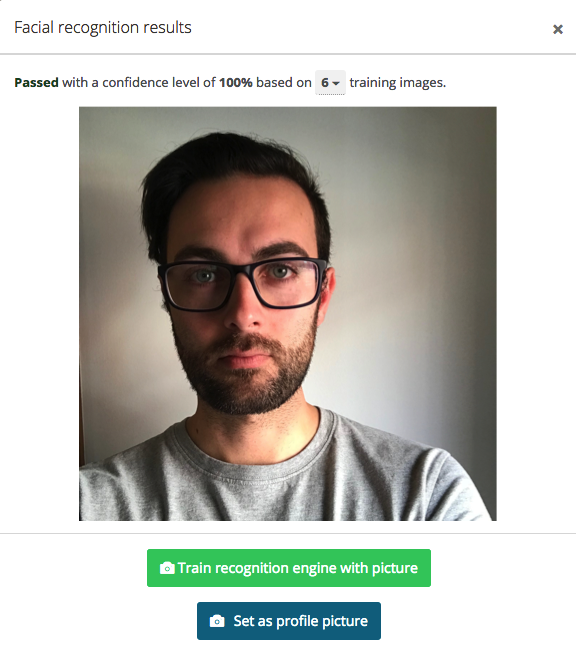 If you accidentally use an image that is not correct, simply click the dropdown box showing the number of images. Thumbnail size versions of the images on file will display, simply click the red Untrain button to remove one.
Considerations and troubleshooting
When considering where to place your Time Clock devices, if images are to be used for facial recognition verification:
If the camera position is fixed, ensure it is pointing at an area that staff of varying heights will be able to use, and not going to capture only half of the employees face - the whole face needs to be captured
Ensure there is more light shining of the faces of the employees than is coming from behind - if they are backlit, there will not be enough image detail and images will not be usable
If using a tablet ensure it is not upside down or capturing sideways images.
Blocking incorrect clocking in & out
Remember, facial recognition is a tool to assist managers to correctly authorise timesheets, by verifying which employee was clocking in and out, it will not prevent employees from clicking another tile in error. If employees accidentally clocking out other staff is an issue and you need a time capture method that will prevent that, consider using PIN verification which will not allow someone to clock out with an incorrect PIN.
Where to now?
Editing and authorising timesheets
Other related articles