Keeping on top of important dates is easier than ever before
Core HR > Reports > Important Dates
The 'Important Dates' function allows you to monitor the following types of important dates from the system:
Commencements
Work Anniversaries
Qualification & Licenses expiration
Birthdays
Public Holidays
You can view important dates either on the dashboard widget or on the important dates report.
Dashboard widget
The dashboard has a widget called 'Important Dates' that will list the past and upcoming 7 days of important dates. There is a 'View all' button that takes you to the Important Dates report for the full list.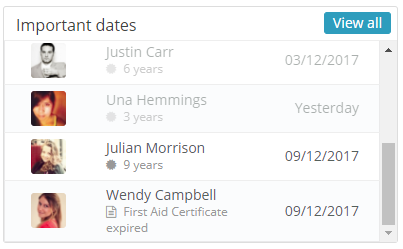 Important dates report
The Important Dates report, can be accessed either via the View all button on the Important Dates widget on the dashboard, or accessed via Core HR > Reports > Important Dates
At the top of the report are three buttons; Print, Graph Data and Table Data.
The 'Print' button will load the report graph in a printer friendly version. You can then select your desired printer and print!
The 'Graph data' button will download a .csv file of the data values that make up the graph. There are two columns in the export; Date and Average Age.
The 'Table data' button will download a .csv file of the data that is in the table section of the report. The same columns that are visible in the table are also in the .csv file.
When first loading the report, it will load with a default filter set. You can change any of the filters then click the 'Filter' button.
Other Related Articles