Ready to make the most of auto-creation of shifts from work schedules, and capture employee consent for variations from their usual spread of hours? Enterprise Work Schedules can be enabled in your account in just two steps.
---
Step 1: Update Company Settings
Go to Settings > Company settings > Rostering

Under Shift inputs, click the drop-down for Use work schedules to auto-create shift for selected staff members?

Select Yes from the drop-down options

Click Save
You might notice that "Do you roster specific break start times?" field will switch to Yes. This is by design to ensure the shifts auto-created from work schedules reflect the break start time and duration specified in employees' Core HR records. Shifts and breaks can still be edited on the roster as needed.
---
Step 2: Update Employee Permissions
Go to Settings > Employee permissions

For the group you want to update, click Edit

Click the Rostering tab

Toggle Allow shifts to be auto-created based on work schedules when creating a new roster to ON.

Click Save.

Repeat steps 1-5 for each Employee Permissions group for which you want to enable auto-creation of shifts from work schedules.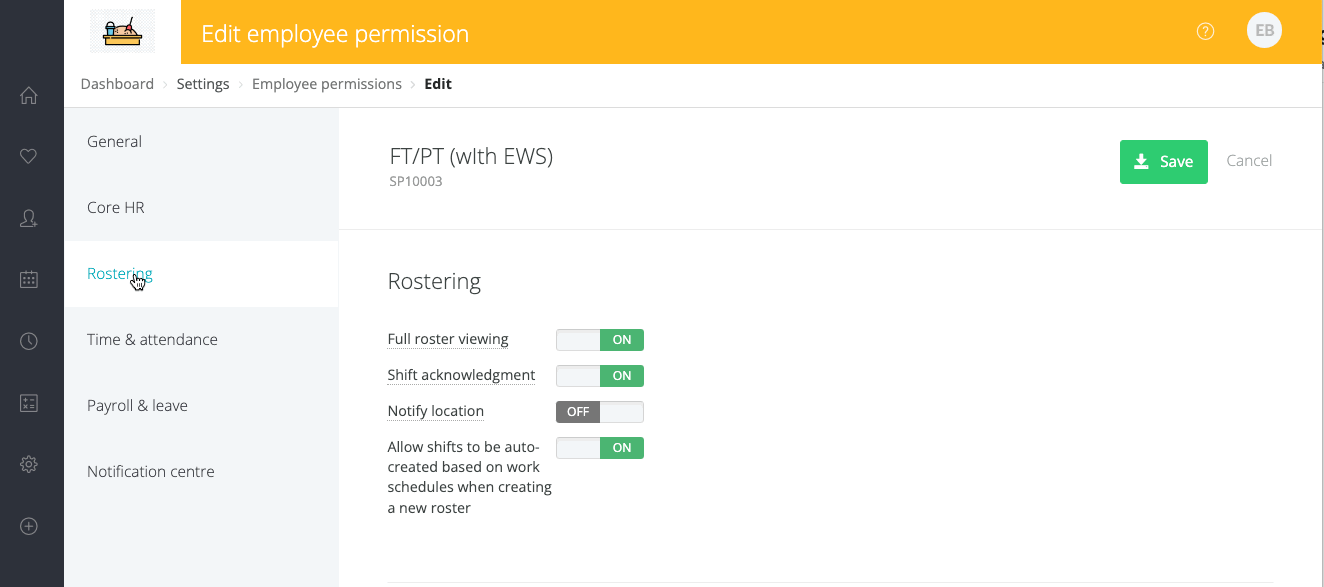 ---
Ento Tip: Want to enable EWS for a subset of employees in your Employee Permission group first? Split them out to a separate Employee Permission group via Settings > Employee permissions > Create New > Based on permission profile. When you've created the new Employee Permission group (and enabled auto creation of shifts 👆), head to Core HR to move your selected employees to the new permissions group.
---